Pie Chart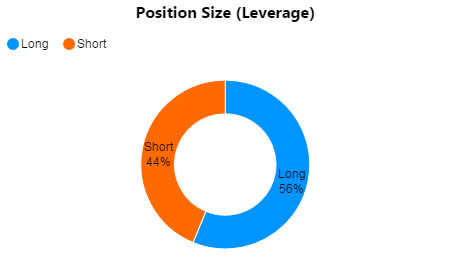 A pie chart in donut style
Set up
Define a data source.

Select Series Key for category data.

Add a Layer, and define the Series Data to plot.
Basics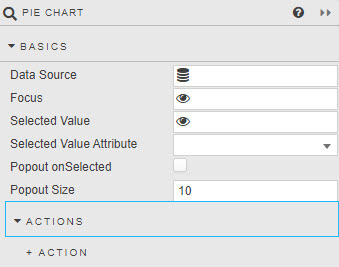 Data Source

A data source.

Focus

Selected Value

Selected Value Attribute

A View State Parameter/s and data-source column/s: maps to a chart (query) data point when a chart segment is clicked by the user.

Popout onSelected

Popout Size

Slide out pie selection.
Action
Data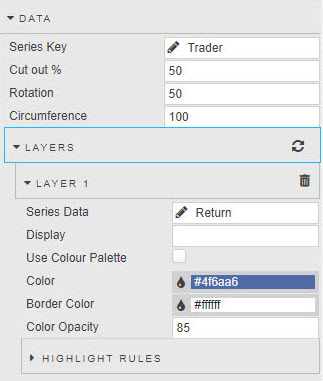 Series Key

Category from Data Source.

Cut out %

Size of donut hole.

Rotation

Rotation of Series Key labels.

Circumference

100% is a full circle, 50% is half-circle.
Layers
Series Data

Data to define pie sections from Data Source.

Display

Title of pie chart.

Use color Palette

Check to replace standard single color per segment with Color Palette option.

Color

Border Color

Color Opacity

If not using a Color Palette, the single color and opacity (0-100) to be used for all segments.
Highlight rules
Rules for color-coding charts: best used with real-time streaming or polling data.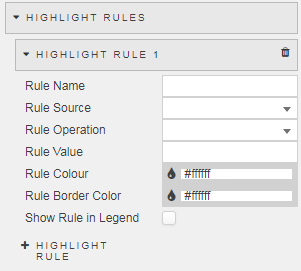 Rule Name

A name for the rule.

Rule Source

The Data Source column to which the rule will apply: All is an option.

Condition

Rule Color

Rule Border Color

The color to display when the condition is true.

Show in Legend

When checked, the highlight rule legend will appear in the chart.
Legend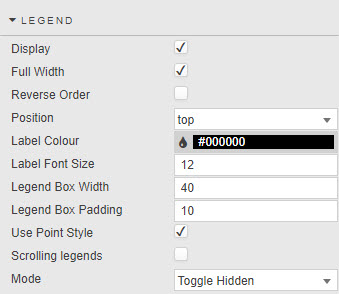 Display

Check to use a legend.

Reverse Order

Change direction of pie-chart labels.

Position

Location of pie chart.

Label Color

Label Font Size

Color and font of text label.

Full Width

Width of label.

Legend Box Width

Legend Box Padding

Dimension of text legend.

Use Point Style

Switch between block- and point-style legends.

Scrolling Legends

If pie-chart size is smaller than size required to display the legend, add a scroll bar for the legend.

Mode

With Toggle Hidden enabled, selecting a legend will remove selected datapoint from the pie chart, otherwise acts only as a data selector (data remains visible in pie chart).
Padding
Left

Right

Top

Padding

Pixel size adjustments relative to the component / label.
Labels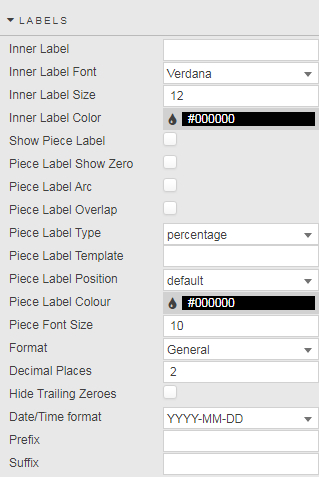 Inner Label

Inner Label Font

Inner Label Size

Inner Label Color

Text or icon display for center of pie chart.

Fontawesome

Fontawesome uses the same icon names found in icon-using components, e.g. in Highlight Rules.

Show Piece Label

Piece Label Show Zero

Piece Label Arc

Piece Label Overlap

Piece Label Type

Piece Label Position

Piece Label Color

Piece Font Size

Formats for pie-chart labels; e.g. whether they follow the curve of the pie-chart circle (Piece Label Arc) or sit outside the pie chart (Piece Label Position).

Format

Sets format for label

Decimal Places

If a numeric Format is used it sets the number of decimal places to display in the label.

Hide Trailing Zeroes

Remove excess zeroes from label.

Date/Time Format

If a time Format is used it sets the format for time-based labels.

Prefix

Suffix

Adds a text label before or after the display Label; e.g. £, %, €.
Animations

Enabled

When checked offers smoothing render animation.
File export
Style, Margin & Format
Style and Custom tooltips for common settings.