Sign in to kdb Insights Enterprise
Access to kdb Insights Enterprise is restricted by robust authentication (user identity checking) and authorization (permission to use system features is defined in user accounts).
When you access kdb Insights Enterprise, this screen is displayed: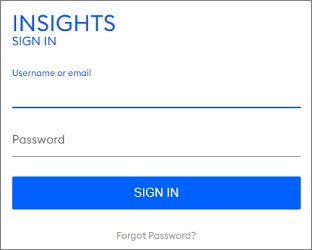 kdb Insights Enterprise SIGN IN screen
To access the application:
Enter the username (or email) and password assigned to you by your administrator.

Click SIGN IN.

The kdb Insights Enterprise user interface is displayed.
See your password
Click the

icon to see your password.
To reset your password:
Click Forgot Password? and follow the on-screen instructions to receive an email and reset your password.
Forgotten password
The Forgot Password? link is available only if your administrator has configured the password reset service.
To log out of the application:
Click Logout in the top right-hand corner of the kdb Insights Enterprise screen.

A confirmation screen is displayed.

Confirm that you want to log out of the application.