KX Insights Platform Alerts and Notifications
The KX Insights Platform provides a set of pre-configured alerts to help you control your KX platform activity on Azure Marketplace. The following User Guide details how to activate or deactivate those alerts depending on your needs.
Getting started
Go to Azure Homepage and click Monitor

On the left-hand panel, click on Alerts

On the top panel, click Alert rules
The Alert rules section shows the full list of pre-packaged alerts KX Insights provides you. For the Customer Managed Plan, by default, those alerts are pre-configured with the KX Insights recommended thresholds however they are in a disabled state so that you can decide whether to enable them. This is because there is a cost associated with this Azure service. The following guide details how you can edit any status, notification type and threshold value if you choose to enable an Alert.
Default Alerts
For the KX Managed App Plan, these Alerts will be enabled by default and are required by the KX Insights Managed Service Team to provide Support. Customers should not edit or disable Alerts in a KX Managed deployment.
Enable or Disable alerts
Once you have accessed Alert rules: 1. Find the alert you want to change the status for 2. Click on the "..." next to Status 3. Select whether to Enable or Disable it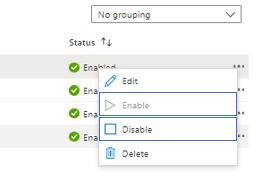 Modify Notification
Once you have accessed Alert rules: 1. Find the alert you want to change the notification type for 2. Click on he "..." next to Status 3. Select Edit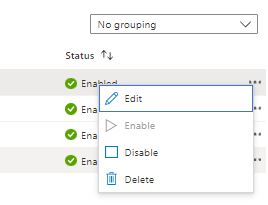 A new screen will open, scroll down until you find Actions

Click on the Action Group

A new screen will open, scroll down until you find Notifications

Under Notification type, find the element to modify.

Select the pencil

A new screen will open, update the information and click OK

Click on Save Changes
Modify Threshold
Once you have accessed Alert rules 1. Click on the alert to modify 2. A new screen will open, scroll down until you find Condition 3. Click on the name of the alert

A new screen will open, scroll down until you find Threshold Value, modify it

Click Done

Click Save