Create a workflow
Tie the messaging server, tickerplant, RDB and HDB together with a workflow. Workflows allow processes to be grouped together into systems. These groups of processes can then be started and stopped together. Workflows enforce start-up dependencies – a process will only start once all of its parents have successfully started. Conditions based on return values can be built into workflows (e.g. an RTE only starts up if its parent starts up and returns a specific value). Each process in a workflow is actually a task – a task is a scheduled instance of a process instance.
To create a workflow, click on the Process Library and select New Workflow from the context menu.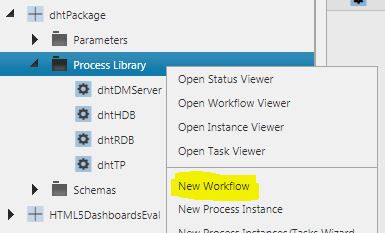 Enter the appropriate information in the workflow dialog and click Add.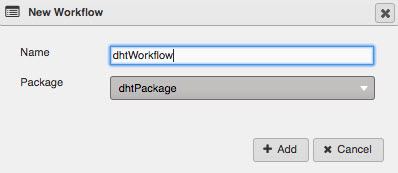 The workflow editor will appear at the bottom of the screen.

Click the New Task button at the top of the editor.

In the dialog, select the process instance dhtTP, click Add then ok.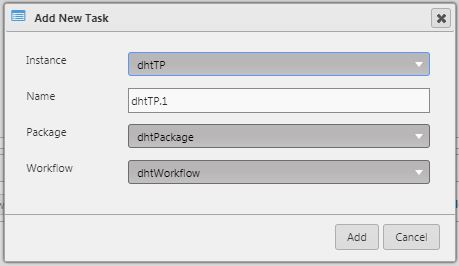 Repeat this process and add new tasks for the dhtDMServer, dhtHDB and dhtRDB process instances.
The tasks appear in the workflow as shown. Notice that tasks are differentiated from their instances by the addition of a suffix. The default naming is to add a dot suffix to the instance name followed by a number indicating the task (e.g. dhtHDB.1, dhtHDB.2, etc.).
Any process instance can have more than one task associated with it, but only one task can run at a time. This configuration supports the re-use of process instances by creating multiple schedules for it.

Next define the start order for the tasks. In general, start with the messaging server first, followed by the TP, then the RDB. The HDB can stand alone as it doesn't have to connect to anything. To begin, click the Add Connection button at the top of the editor.

In the dialog, connect from the dhtDMServer to the dhtTP and click Add.

The screen will update with a connection: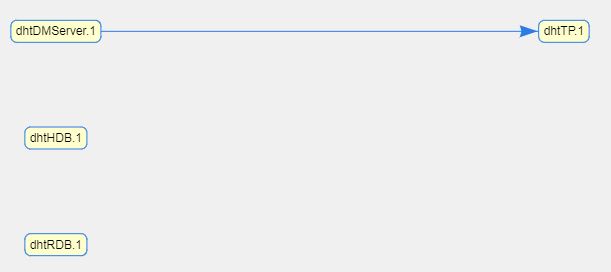 Click the Add Connection button again. In the dialog, connect from the dhtTP to the dhtRDB and click Add.

Save the workflow and test it. If any of these process instances are already running, stop them; otherwise there will be a port conflict. Click the Start button in the workflow editor. The nodes in the workflow editor should change appearance to indicate running. Check their status in the Process Status viewer as well.

Check their status in the Process Status viewer as well.