Create a Tickerplant
A Tickerplant writes all incoming records to a log file for data recovery purposes and pushes all data to a real-time database and any other processes. The tickerplant is very lean, so that it can keep up with huge volumes and velocities of data.
Right-click on the Process Library folder in the dhtPackage and select New Process Instance from the context menu.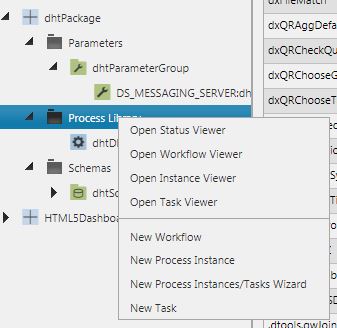 A dialog appears. Enter dhtTP as the instance name, select the DS_TP template, and click OK.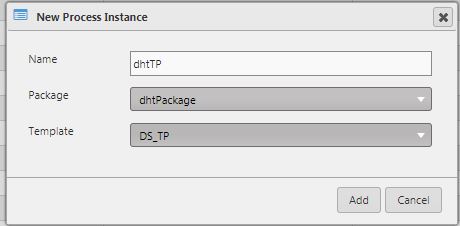 Select the Instance Details tab and enter a description.

Select the Shutdown Alerts tab and change the normal and unexpected shutdown information as shown: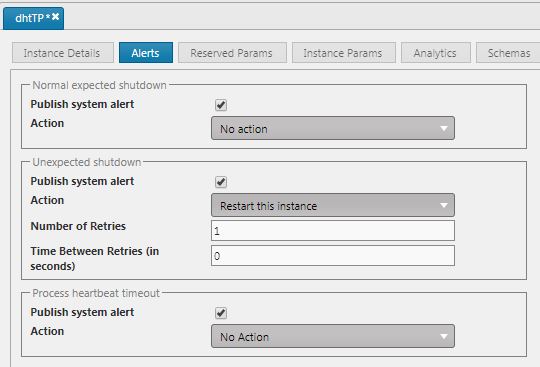 Select the Reserved Parameters tab and change the host and port information to the fully qualified domain name of the host you are using and a free port:

Select the Instance Parameters subtab so several instance parameters can be modified.
Set the Delta Messaging Server to the configuration parameter you defined in the last section:

Set the SubscriptionChannel to datafeed. This is the channel that the tickerplant will be using to subscribe to data. This channel will be accessed in other instances.

The Tickerplant can write log messages to a disk file. To keep a log file, provide the tickerplant with a directory location on the system being used; set the logDirectory to either NO_DIR or a valid directory.
Note
Ensure you provide a valid tickerplant directory or NO_DIR. A blank value will cause the TP to ERROR on startup
If the logDirectory is set to to NO_DIR, the table will look as follows:
Select the Schemas subtab and add the dhtSchemaGroup to the Selected Schema Groups using the arrow button. Search the Available Schema Groups list by entering the prefix into the search area above the list. This is useful when there are many groups in the list.

Save the process instance.