Scheduling
Schedule a workflow
The data-capture system can be scheduled by scheduling a root task. For example, set up a system to start at 8am Monday morning, and shuts down at 6pm every Friday night. To simplify things, the workflow will be changed to have only one root node on which a task will be scheduled.
First, create a central starting point. Click the Add Connection button at the top of the editor.

In the dialog, connect from the dhtDMServer.1 to the dhtHDB.1 and click Add:

Edit the dhtDMServer.1 task and schedule it. The End date on the scheduled task doesn't refer to the time the task will be stopped, it is the time after which the schedule will no longer be in effect. The task is configured to last for an entire year. The workflow will start every workday at 8:00 am.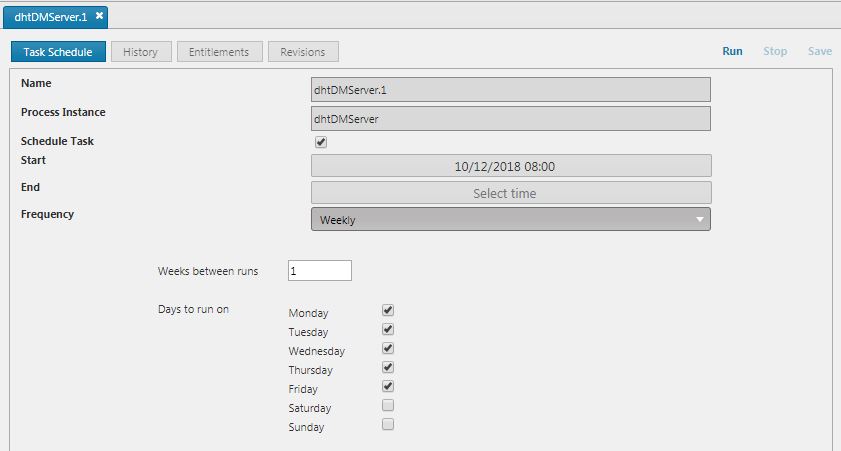 Run button
Once a root task has been scheduled, the Run button will no longer work in the workflow editor. To start the task, you will have to manually start the root task.
Schedule a shutdown
Shutting down requires a new process to shut down all the other processes. This is done by using the DS_TERMINATE_PRCL process template and the DS_TERMINATE_PRCL_NAME configuration parameter.
First, override the DS_TERMINATE_PRCL_NAME configuration parameter.
Right-click on the dhtParameterGroup folder and select New Parameter Override from the context menu.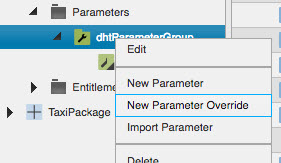 Create the dhtTerminate override with the following information: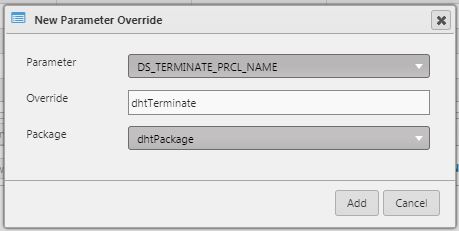 In the Attribute Values subtab, use the Add button in the editor to add the dht task names.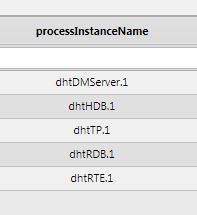 Save the override.

Next create the dhtTerminate process. Right-click on the Process Library folder in the dhtPackage and select New Process Instance from the context menu.
Complete the Process Instance Dialog.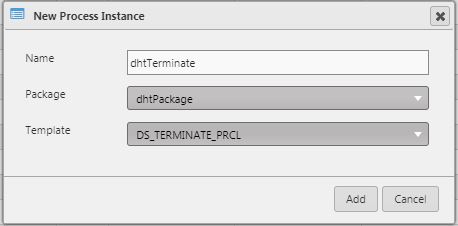 Add a new host and port, such as ENV=DELTACONTROL_PORT=+2005
In the Instance Parameters subtab, set the prcInstanceParam config parameter to the override parameter just created.

Start one or two of the dht processes, then test the dhtTerminate process by running it. The other processes should stop. Users can also shut down a workflow directly from the Linux box, using <installdirectory>/delta-bin/bin/stopWorkflow.sh.
Create a scheduled task from it that starts it at 6pm every workday, all year.